MOROCCO TRAVEL TOUR AGENCY
Explore Morocco with the best local Travel agency.⁣⁣
Who we are
Welcome to Morocco Travel Tour
Welcome to your best Morocco travel partner Morocco Travel Tour Agency. We are an independent and local travel agency that organizes tours, activities, accommodations, and everything connected with the tourism industry.
Over the last 14 years, we have satisfied over 4500 clients. Since 2009, 'Desert Tours' has been focused on bringing our customers the best services and high-quality travel game plans. Our tour guides are all locals who are professionals, experienced and have traveled extensively around Morocco.
With all these experiences and experts, you can always rely on us. Every member of our staff aims to leave you with a memorable adventure. From the moment you arrive until you leave, our team will always ensure that your vacation runs comfortably and safely.
support any time
cheap prices
Professional Driver
All types of Tours
Guided tours
Vehicle safety
View Trips
Best trips organization in Morocco!
We are here for your needs, any time you can get a support.
---
Best Morocco Travel Tour Agency offers
Tours & Imperial Cities
The best Morocco package tours we offer are those Desert trips combined with the Imperial Cities such as Marrakech, Rabat, Meknes, and Fez. Booking the Morocco Desert Tours will allow you to navigate the streets of ancient-royal Medinas, ride a camel over the Sahara, discover mud-brick buildings in Desert tours, and climb the high rocky peaks of the Atlas highlands.
View Tours
Morocco Day trips
Another fantastic service we offer is day trips from Marrakech and Fez. Day trips are the best method to see beautiful surroundings when staying in one of the following cities for several days. We have created marvelous Marrakech and Fes day trips here that will pick you up and drop you off at your hotel. Click to view all our Morocco day trips.
View Trips
Transfers between cities
Morocco Travel Tour agency also offer 24-hour intercity transfers for couples, families, large groups, etc. We can drive you wherever you want without the inconvenience of using public transportation. We will transfer you using comfy & air-conditioned Mercedes Vans or luxury Toyota Land Cruisers.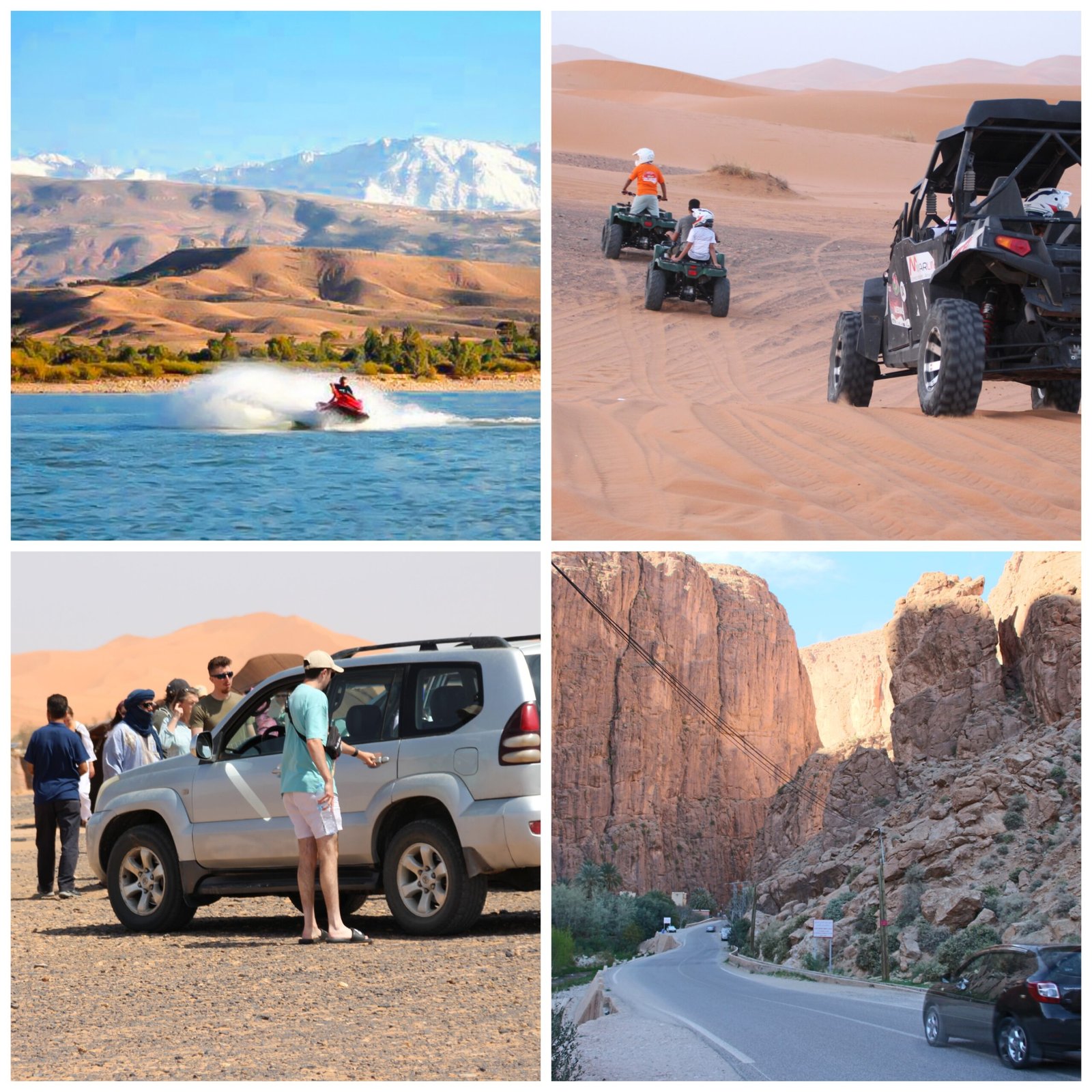 Activities
We offer a variety of activities and things to do, ranging from surfing in coastal cities to camel trekking in the Sahara Desert. With our activities: you can ride a camel in Merzouga, surf in Agadir, drive the quad in Marrakech, jet ski in Tangier, Climb the high Atlas Mountains, and everything you could ask for.
View Activities
Airport shuttles
Aside from intercity transfers, we also offer airport shuttles. We aim to make your arrival & Departure safe, reliable, and stress-free. Our team understands the importance of being on time and will get you there on time. If your accommodation is not accessible by car, our team will walk to pick you up & drop you off in front of the door.
Accommodations
We provide a wide selection of year-round lodgings for our lovely guests, including fashionable medina residences, world-class luxury hotels, seaside resorts, authentic riads, and luxury campsites. Since we are a local travel agency, we have visited most of the hotels in Morocco, we have compared all the details, and we will save you time searching.
---
Why Book with us
Travel protected
Booking your vacation with us means you have assistance through your stay. Our gusets will be given personalized attention and support along the holidays.
Best team
Our professional team contains some of the best tour guides & Drivers in the country. We are local Berber guides with 14 years of experience and have been all throughout Morocco.
ideal itinrary
We can find the ideal itinerary for you and provide suggestions for creating a trip that is completely matched to your needs and desires.
Affordable prices
We offer our lovely guests the best prices guarantee. With us you will save %25 of your visit to Morocco. We only charge %5 fee at no additional charge to you.
---
Ranked Morocco Tours
Morocco 10-Day itinerary
To help you plan your trip, our team of specialists puts together this best Morocco 10-day itinerary, which includes a great list of places to see in desert tours around Morocco. When you book the Morocco 10-day tour with us, you will save time planning and the stress of communicating with people, finding things, and knowing where to go.
View Tour
3-Day Morocco Desert Tour
It is a great idea to include the Sahara Desert and the royal cities in your Morocco road trip itinerary. In this regard, our team created this 3-Day itinerary from Marrakech to Fez, which includes the two Imperial cities as well as the Merzouga Desert.
View Tour
8-Day Desert Tour Tangier to Marrakech
One of the best Morocco tours we offer is the Tangier to Marrakech 8-day Desert tour. During the 8-day Tangier to Marrakech tour, you will experience most of Morocco's must-see attractions. The Desert tour includes Chefchaouen, Fes, Merzouga Dunes, Kasbahs, Marrakech, etc.
Tours From Marrakech
3 Day Tour Marrakech to Fes
Are you visiting Morocco for the first time and don't know what to do? No need to worry; our guidelines here will provide you with the best possible itinerary.
View Tour
3 day tour Marrakech to Merzouga
If you're visiting Marrakech and searching for a memorable adventure, we've put up this perfect 3 day tour Marrakech to Merzouga desert.
View Tour
4 day tour Marrakech to Merzouga
Book the best 4 day tour Marrakech to Merzouga desert. You will be able to visit several places and try a variety of activities.
View Tour
5 day tour Marrakech to Merzouga
If you're looking to run away from the noisiness of Marrakech city, add this private 5 day tour Marrakech to Merzouga to your Morocco itinerary.
View Tour
7 Day Tour From Marrakech
A perfect way to enjoy the charm of Morocco is by booking the Morocco 7 Day Tour From Marrakech. Travel from one place to another, from one adventure to the next.
View Tour
10 Day Tour from Marrakech
Morocco is a vibrant country with spectacular landscapes and diverse geography, including mountains, the coast, the Desert, etc. The country encompasses a vast area full of adventures.
View Tour
Tours From Casablanca
7 Day Tour from Casablanca
When planning your Morocco holidays, many of you may face the troubles of building the perfect itinerary. However, now you've reached our website, forget about any itinerary issues. Our team is available 24 hours a day,
View Tour
14 Day Tour from Casablanca
Here is 14 Day Tour from Casablanca that suits everyone's needs– all the highlights of Morocco for two weeks. Let's check out this Best Morocco 2-week itinerary.
View Tour
4 Day Tour Casablanca to Marrakech
The private 4 Day Casablanca to Marrakech is ideal for people with limited time in Morocco who want to ride camels and spend the night in the Sahara Desert.
View Tour
5 Day desert Tour from Casablanca
Book the best 5 Days Merzouga Desert tour from Casablanca. You will be able to visit several places and try a variety of activities
View Tour
8 Day Tour Casablanca to Tanger
If you're looking to run away from the noisiness of Marrakech city, add this private 8-Day Desert tour from casablanca to your Morocco itinerary.
View Tour
12 Day Tour casablanca Via Sahara
What could be better than a 12 day tour from Casablanca via sahra desert that includes journeys to Chefchaouen and camel ride ? An adventure you will never forget.
View Tour